All-On-6 Dental Implants
Implant Supported Fixed Bridge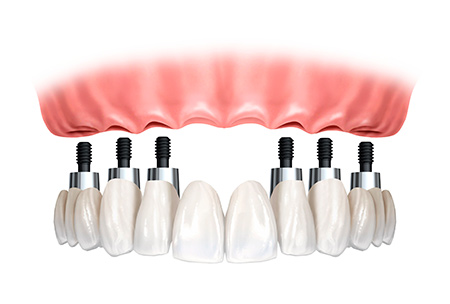 Florida Smile Studio offers All-on-6 and All-on-8 dental implant supported fixed bridges designed to restore your smile with a permanent, durable and natural smile. A bridge is fixed firmly to the supporting dental implants, six or eight depending on the patient's bone support and other factors, while the gum remains free to preserve full taste sensation as well as a durable natural smile. Dental implant supported fixed bridge treatments provide a permanent solution that denture wearers had only previously dreamed about!
Benefits of The Implant Supported Fixed Bridge Teeth Replacement Procedure Include:
Replaces roots and teeth.
Preserves bone and soft tissue.
Rapid improvement in the quality of life.
Natural-­‐looking esthetics.
Allows you to eat the foods you want.
Improves functionality to 90% compared to natural teeth.
Able to clean fixed implant bridge like natural teeth.
The team at Florida Smile Studios has placed and restored over a thousand dental implants, including early and immediately loaded full mouth reconstructions. Florida Smile Studio's provides a wide range of dental implant solutions to fit your personalized restoration needs.