All-On-4™ Dental Implants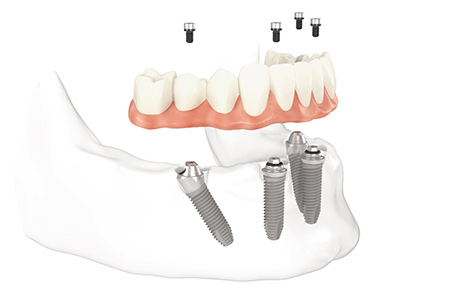 The team at Florida Smile Studio is proud to introduce the All-On-4™ dental implant procedure that is designed to restore your smile through a minimally invasive treatment that provides a natural, durable and permanent solution to significant tooth lose. Dr. Burak Taskonak is an internationally recognized leader in implant dentistry and is one of the few clinicians that offers the All-on-4™ dental implant procedure in the South Florida area. The All-on-4™ treatment concept is a cost-efficient, graftless solution that provides patients with a fixed full-arch prosthesis on the same day as surgery.
The All-on-4™ treatment is the least costly procedure in comparison with conventional implant treatments and can be performed on the upper or bottom areas of the mouth, or both. The All-on-4™ procedure is also one of the fastest healing implant treatments on the market. The treatment implements a tilting of the posterior implants which helps avoid the need for time consuming bone grafting procedures and provides the support for immediate load dental implants.
Benefits of The All-on-4™ Full Arch Teeth Replacement Procedure Include:
Shorter treatment times.
Lower cost than other full smile implant treatments.
Improves functionality to 90% compared to natural teeth.
Rapid improvement in the quality of life
Eliminates need for bone grafting.
Can provide temporary bridge day of surgery.
Preserves bone and soft tissue.
Never decay – 95% success rate over 30 years.
Natural-­‐looking esthetics.
Allows you to eat the foods you want.
Able to clean fixed implant bridge like natural teeth.
The team at Florida Smile Studios has placed and restored over a thousand dental implants, including early and immediately loaded full mouth reconstructions. Florida Smile Studio's provides a wide range of dental implant solutions to fit your personalized restoration needs.