Multiple Teeth Replacement
Replacing Multiple Teeth With Dental Implants
When individuals are missing several teeth the most common treatment options are removable partial dentures, a traditional dental bridge that is supported by the patient's natural healthy teeth or a dental implant bridge.
For patients with multiple missing teeth the benefits of utilizing implant dentistry over previously utilized "traditional" methods are even greater than that of a single tooth replacement. With a dental implant supported bridge the patient can:
Maintain the natural jaw bone and preserve a healthy, natural looking jawline.
Preserve the remaining healthy adjacent teeth.
Enjoy a permanent healthy bite and smile without having to worry about what they can or can't eat.
Preserve a normal dental hygiene and maintenance routine.
Where on the other hand, just like a single tooth replacement utilizing the natural bone, you are at risk for future decay under the crown, potential root canals as well as bone loss. With removable dentures, the risk of future decay and root canals is eliminated but the risk of bone loss is significantly increased.
Natural Tooth Bridge vs. Dental Implant Supported Bridge Replacement Techniques
A ceramic bridge is used to replace any tooth that is missing or beyond repair. It is individually made to match the shade and contour of your natural teeth, so practically no one can tell the difference. There are two methods to replace missing teeth, depending upon your individual circumstances.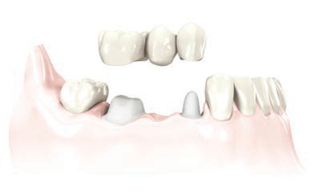 Bridge on natural teeth consists of high-strength dental ceramic. Built with natural-looking replacement teeth, it is anchored to the adjacent teeth. To secure the bridge, the adjacent teeth must be reduced in size. Certain conditions are
required when this method is used. This method does not solve the problem of further bone loss.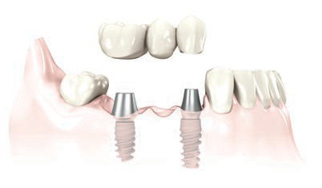 Bridge on implants uses modern technology. A durable bridge with natural-looking replacement teeth is securely positioned on dental implants. Healthy, adjacent teeth are left untouched. Dental implants are strong, biocompatible fixtures made of titanium, that act just like natural tooth roots.