The Best Choice
Making The Best Choice In Dental Implant Treatments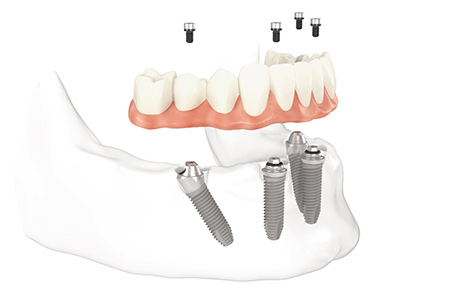 There are many dental implant centers and clinics that provide immediate load full mouth dental implant solutions for full mouth tooth replacement. However, not all of them provide comprehensive treatment plans that are designed to ensure the overall dental health of the patient after the initial treatment is performed. This makes it difficult to make the best choice in deciding the proper dental implant center that is right for you.
Just like your natural teeth, proper dental hygiene is critical to maintaining a healthy beautiful smile. Unfortunately, some dental implant treatment centers do not offer follow up scheduled maintenance solutions that are critical to maintaining your beautiful new smile. They simply offer the initial placement procedure and send you on your way without any follow up.
At Florida Smile Studio, we provide a treatment plan that starts with a personalized consultation to provide you with solutions that are specific to your individual case and it does not end there. At Florida Smile Studio we are driven by our goal to "to transform your smile into a masterpiece" which includes the utilization of state-of-the-art technology as well as providing a comprehensive maintenance solution to ensure your beautiful smile lasts.
Qualifying full mouth reconstruction patients receive a Waterpik Cordless Plus device for future care of your implants and a post-operative Hygiene Session at No Additional Cost ($500 Value)
Is The All-On-4™ Treatment The Best Choice For Me?
The All-On-4™, or immediate load full mouth replacement procedures, may not always be the right solution for you. Therefore, it is important to receive a consultation from a dental implant provider that performs a full array of dental implant procedures that can be applied to your individual needs. In many cases, dental implant centers that "specialize" in a particular dental implant procedure may not offer alternative solutions to fit your needs. This places you, the patient, in a situation where you have no other choice but to utilize their method of treatment.
We have at least 4 dental options for full mouth reconstruction at Florida Smile Studio, allowing us to take into consideration your specific challenges and objectives.
How Do You Make The Best Choice In Comprehensive Dental Implant Treatments?
We have outlined a few simple questions that you can ask to ensure you are receiving a comprehensive immediate load dental implant treatment plan:
Once my implants are placed and restored, what kind of ongoing maintenance plans or treatments do you offer?
What dental implant procedures do you offer and why do you recommend one over the other for my specific treatment plan?
What is your policy if my implants fail?
Is my procedure performed by a specialist of a general dentist?
What type of implants do you use?
Can you definitely load my dental implants on the same day?
The team at Florida Smile Studios has placed and restored over a thousand dental implants, including early and immediately loaded full mouth reconstructions. Florida Smile Studio's provides a wide range of dental implant solutions and maintenance plans to fit your personalized needs.