Single Tooth Replacement
Single Tooth Replacement With A Dental Implant
Typically when individuals are missing a tooth, whether a visible front tooth or a back tooth, they were faced with only one option; to grind down the natural teeth or adjacent teeth to restore the tooth with a ceramic crown. The drawbacks of this procedure includes:
Damaging otherwise healthy adjacent teeth to replace the missing tooth.
Potential for decay to occur on the natural tooth, under the crown, leading to the crown to fall off as well as a potential root canal years down the road.
How Single Tooth Dental Implants Have Revolutionized Replacing A Missing Tooth!
Now with the advancements in implant dentistry, a permanent single tooth replacement option is possible without damage to the adjacent natural teeth. Much like the previous tooth replacement procedures, a customized impression is made of your bite to develop a crown that is design to fit the look and feel of your individual bite and smile. The crown is placed on a single tooth implant that is implanted into your jaw bone to maintain natural bone growth and provide a permanent tooth replacement procedure.
The benefits of a single tooth dental implant include:
A natural look, feel and function to your other natural teeth.
The natural adjacent teeth no longer need to be ground down to support the replacement crown.
There is no visible jawline defect caused by bone loss.
Hygiene and maintenance is similar to natural teeth maintenance.
The risk of tooth decay and or a root canal on the replacement tooth is eliminated.
Natural Tooth Crown vs. Dental Implant Crown Replacement Techniques

A ceramic crown restores any tooth that is destroyed or damaged. Crowns are custom made to match the shade and contour of your natural teeth to provide a natural looking smile.
Restoring a damaged tooth on a natural tooth:

Here, the tooth is ground down far enough so that a new crown can be placed on the remaining, healthy natural tooth structure. This process provides a strong, natural foundation for the new crown.
Replacing a missing tooth on a dental implant: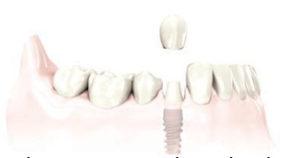 If you are missing one tooth including the root, the dental crown is attached to a dental implant. The implant serves as a foundation for a dental crown. This method does not affect your other healthy adjacent teeth while maintaining a natural healthy looking smile.