Dental Implants: Treatment of Tooth Loss
[vc_row][vc_column][vc_column_text]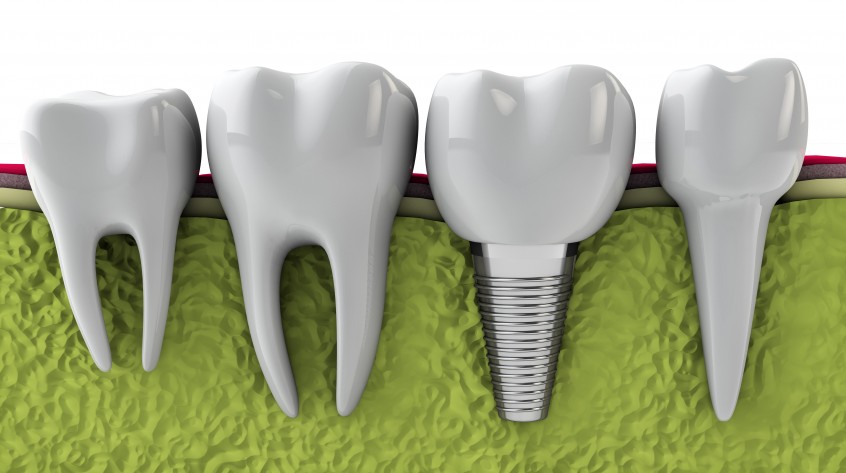 Tooth loss can occur due to a variety of reasons, even if you take very good care of your teeth. If you do lose a tooth, it's important to consider all the options for tooth replacement. This includes dental implants, which are the best possible choice for permanent replacement of missing teeth.
How Implants Work
A dental implant is basically an artificial root that's placed directly into your jawbone. It's shaped like a screw, and is generally made of titanium or a titanium alloy. The material is important, because the bone must be able to bond with the implant in order for the implant to be successful. Once the implant has healed and is secure, you'll have either a prosthetic tooth attached to each individual implant or several implants will be used to secure a removal arc of dentures. In either case, the implant helps keep your teeth secure and also stimulates growth in your jawbone to prevent the eventual atrophy that is common among people who have worn dentures for a long period of time. Implants allow you to eat, talk, and chew normally, without having to worry about dentures becoming dislodged or uncomfortable.
Choosing the Right Tooth Replacement Option for You
Dental implants are the best option for tooth replacement as far as comfort, a realistic look, and jawbone health. However, they aren't right for everyone. To determine if dental implants are the best choice for you, consult with our periodontist. Some issues that could make it difficult for implants to be successful include:
In order for an implant to heal thoroughly and successfully, you might need to be treated for gum disease or have bone grafts placed before the actual implant procedure. This can increase the likelihood of a successful implant. In some cases, however, particularly if you have a systemic problem like diabetes or an autoimmune disorder, our periodontist might recommend a different option.
Call the office of Dr. Burak Taskonak today to make an appointment with our team.
[/vc_column_text][/vc_column][/vc_row]
Inquiry Form
Please fill out your information below.