Is It Too Late to Have Braces If I Am An Adult?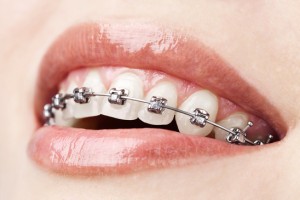 Dental work is not just for adolescents. If you're an adult and have misaligned teeth, you can have braces or Invisalign to correct the problem. Proper tooth alignment is important to your dental health and can also greatly increase your quality of life, particularly if you are self-conscious about your teeth.
Dental Options for Adults
Dentistry is often considered a rite of passage for adolescents. Braces are used after all the permanent teeth have emerged to ensure they are properly aligned. However, many adults also have alignment problems. Sometimes these issues develop with age, while others simply weren't treated earlier. If you are experiencing wear and tear, symptoms of TMD, or have teeth that are crooked, poorly spaced, or overlap, dentistry can help.
There are options available aside from traditional braces for those who prefer that their braces not be obvious. These include:
Lingual braces—the braces are placed on the backs of the teeth instead of the front

Porcelain braces—these tooth-colored braces are less visible

Invisalign—uses plastic aligner trays to move the teeth into position
These are all popular options for adults who wish to have dental work, especially those who work with the public or whose appearance is important to their job.
Why Have Dental Work as an Adult?
There are several reasons why you might choose to have braces as an adult. Misaligned teeth can cause a variety of long-term problems, including:
Premature wear

Habitual grinding and clenching

Malocclusion

Temporomandibular joint disorder
You also might just feel self-conscious about your teeth if they overlap or have visible gaps between them. Having dental work can increase your self-confidence and thus improve your quality of life.
Invisalign is a popular option for adults because the clear plastic aligner trays are easy to use, comfortable, and practically invisible. You can have your teeth straightened without anyone knowing you're even wearing the trays. Treatment is very effective, and in most cases takes about the same amount of time as traditional braces.
Call our office today to speak with a member of our caring team and set up a consultation about Invisalign with our Dr. Taskonak.
Inquiry Form
Please fill out your information below.