Exchanging a bridge for All-on-4 Implants?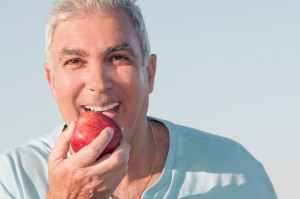 A dental bridge is often used to replace one or two teeth that have teeth remaining on either side. The bridge is anchored to the adjacent teeth with crowns or wires. Dental implants can also be used to replace only one or two missing teeth without requiring reshaping of the adjacent teeth. When several teeth are missing, All-on-4 implants can also be a good permanent solution.
Bridgework vs. Dental Implants
The bridge is a way to place a permanent denture that replaces only one or two teeth. In a crown and bridge, the denture is anchored on either side by a crown that is placed on the adjacent teeth. These adjacent teeth must be reshaped to make room for the crown. This type of tooth replacement is permanent, and remains stationary in the mouth, but it does nothing to help prevent jawbone atrophy over time.
By contrast, dental implants do not require any other teeth to be altered. They are placed directly in the jawbone, where the bone bonds to the implant. In the long term, this bond not only holds the tooth securely in place, but also keeps the jawbone regenerating to prevent long-term bone loss. If you have already experienced some bone loss, which can reduce the likelihood of a successful implant procedure, All-on-4 implants might still be an option.
All-on-4 Implants
Traditional dental implants replace each individual tooth with a single implant. This requires a strong foundation of bone in the jaw. Without sufficient bone mass, your periodontist might recommend bone grafts. If you have thicker, stronger bone in certain areas of the jaw, such as in the back, an All-on-4 procedure takes advantage of this. The implants are angled to take advantage of the thicker bone. An entire arc of teeth, in the form of a removable denture, can be supported by only four implants. Our periodontist can determine if an All-on-4 procedure might be a good replacement for your current bridge.
Call us today at 954-905-2000 to discuss your implant options with Dr. Taskonak.
Inquiry Form
Please fill out your information below.