Is Flossing Possible with Braces?
Posted on February 3, 2016
[vc_row][vc_column][vc_column_text]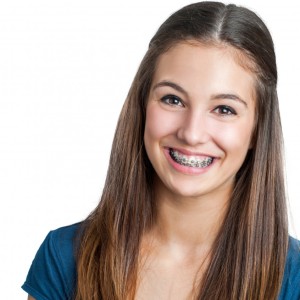 Flossing is not only possible with braces, it's very important to ensure your teeth remain clean and healthy during your dental treatment. Dentistry provides a challenge to everyday oral hygiene, but it's very possible to maintain the health of your teeth even while you're wearing braces.
Flossing with Braces
When you're wearing braces, it's very important to maintain your oral health. Because parts of your teeth are covered and other parts are hard to reach, you'll have to be extra diligent in your everyday care. One important element of your dental care regimen that you don't want to skimp on is flossing.
Flossing can be challenging while you're wearing braces, but special flossing tools can help you perform this vital task. Talk to our dentist about special types of floss and floss threaders that make it easier to reach between the teeth under your braces. Braces can collect extra food particles that can increase your likelihood of developing tooth decay, so flossing is an important way to keep these bits of food out from under your braces and between your teeth.
General Oral Hygiene with Braces
Braces mean you'll need to be extra vigilant and extra dedicated when you clean your teeth. Carry a travel toothbrush with you so you can brush after every meal even when you're away from home. You can also rinse your mouth and use mouthwash to keep your teeth clean and reduce the risk of tooth decay. Talk to our dentist about special tools to help overcome the challenge of oral hygiene while you're wearing braces.
Without diligent care, you are much more likely to develop cavities because of all the additional surface area where bacteria can grow. You might also develop white spots on your teeth that are visible when your braces are removed, a side effect of plaque that develops under and around your braces. Taking good care of your teeth, flossing and brushing regularly, and following the instructions of your dentist can help ensure your teeth remain healthy while you're wearing your braces.
For more information and tips on your dental oral health, talk to our caring and knowledgeable team by calling our office today.
[/vc_column_text][/vc_column][/vc_row]
Inquiry Form
Please fill out your information below.