What is a Prosthodontist?
What is a prosthodontist? Why do I need a specialist?
Patients may consult with a prosthodontist when they're affected by missing or damaged teeth that are detracting from the smile's appearance. The American Dental Association defines prosthodontics as "the dental specialty pertaining to the diagnosis, treatment planning, rehabilitation and maintenance of the oral function, comfort, appearance and health of patients with clinical conditions associated with missing or deficient teeth and/or oral and maxillofacial tissues using biocompatible substitutes." In fact, the first part of the word, "prostho," actually means replacement, pointing toward the focus of this specialty.
Common reasons for treatment by a prosthodontist include chips, cracks or stains in the teeth, missing teeth, misshapen teeth or damaged teeth. These problems may be congenital, developmental or the result of an injury or extensive oral disease.
A prosthodontist is a specialist with extensive experience, training and expertise in providing surgical and non-invasive restorations such as crowns, veneers, dentures, dental bridges and dental implants.
However, prosthodontists aren't limited to restorations. They may also be involved in providing treatment for temporomandibular joint (TMJ) disorders or reconstructing facial structures after damage caused by oral or head and neck cancers, or by trauma.
Like all dentists, prosthodontists complete four years of dental school. After graduation, they go on to complete residencies in accredited prosthodontics programs. This educational experience, which is at least two years long, gives them in-depth knowledge of the advanced materials used to craft restorations, techniques needed to practice in this field, as well as hands-on experience in designing and placing these restorations.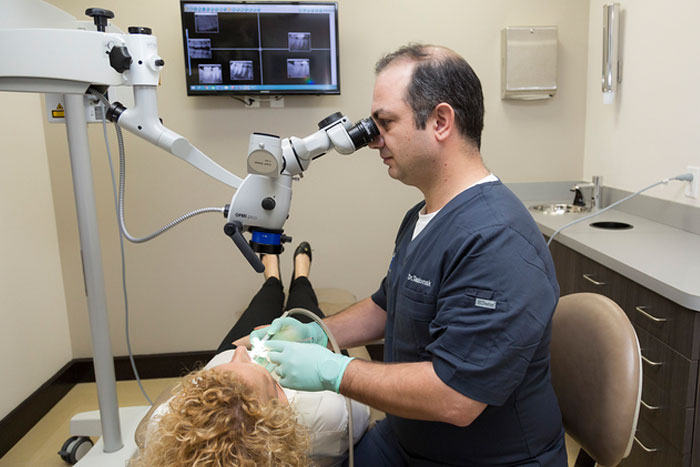 When looking for a prosthodontist, there are other factors for consideration beyond education. You can ask about professional recognition, such as board certification, which demonstrates that a particular dentist has attained the skills and knowledge necessary to practice the specialty proficiently. This honor is bestowed on just a small percentage of prosthodontists each year. Keep in mind that many dentists call themselves "cosmetic dentists," but the American Dental Association does not recognize any such specialty. Prosthodontists are the true "cosmetic dentists."
A prosthodontist should also complete appropriate continuing education coursework to stay updated on the latest developments in the field. Involvement in dental organizations, especially ones that are dedicated to prosthodontics, also helps these specialists to remain informed on factors affecting their practice. This ensures that you will get the most appropriate and state-of-the-art care indicated for your case.
When deciding on a prosthodontist, you should look into all of these qualifications and request to see results of previous patients whose cases were similar to yours.
General dentists have preliminary training that gives them the capability of preparing and providing many of the restorations that can help to preserve a smile's appearance, but their opportunities to perform these interventions in dental school is minimal. With their additional specialized training, prosthodontists dedicate their entire practice to such efforts. Therefore, they accumulate a wealth of experience through repetition in both their residencies and their professional practices, to the patient's benefit. They also utilize the most advanced materials and technology available in their work. Additionally, prosthodontists are well-suited to coordinate multiple restorative interventions, as in a full mouth reconstruction or "smile makeover."
Depending on the circumstances, a prosthodontist may collaborate with other specialists, such as orthodontists or oral surgeons, as well as general dentists in order to meet the patient's expressed smile goals. Sometimes prosthodontists are even called the "quarterbacks" of the dental team.
Prosthodontists can leverage their expertise to help you achieve the beautiful smile of your dreams, carefully crafted to meet your specifications with a remarkably lifelike appearance and functionality.
To learn more about the focused care that a prosthodontist provides and how it may benefit you, contact our office to schedule an initial consultation.